Annual Scientific Meeting 2021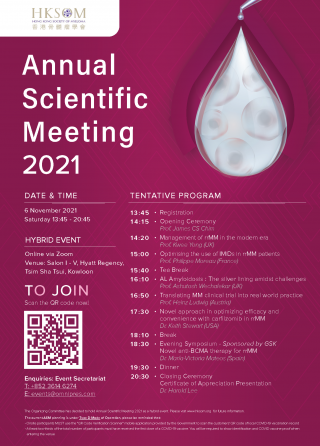 Date: 6 November 2021 (Saturday)
Time: 13:45 – 20:45
Hybrid Event
Online via Zoom
Venue: Salon I – V, Hyatt Regency, Tsim Sha Tsui, Kowloon
CME accreditation under approval:
Hong Kong College of Physicians

Hong Kong College of Radiologists

The Hong Kong College of Pathologists

The College of Surgeons of Hong Kong
For enquiries, please contact Ms. Fiona Chan at events@omnipres.com  
The current ASM planning is under Type D Mode of Operation (*Under the Prevention and Control of Disease (Requirements and Directions) (Business and Premises) Regulation (Cap. 599F)), please be reminded that:
Onsite participants 

MUST

 use the "QR Code Verification Scanner" mobile application provided by the Government to scan the customers' QR code of local COVID-19 vaccination record.

At least two-thirds of the total number of participants must have received the first dose of a COVID-19 vaccine. You will be required to show identification and COVID vaccine proof when entering the venue.
13:45 – 14:15
14:15 – 14:20
Opening Ceremony
Prof. James CS Chim
14:20 – 15:00
Management of rrMM in the modern era 
Prof. Kwee Yong (UK)
15:00 – 15:40
Optimising the use of IMiDs in rrMM patients
Prof. Philippe Moreau (France)
15:40 – 16:10
16:10 – 16:50
AL Amyloidosis : The silver lining amidst challenges
Prof. Ashutosh Wechalekar (UK)
16:50 – 17:30
Translating MM clinical trial into real world practice
Prof. Heinz Ludwig (Austria)
17:30 – 18:10
Novel approach in optimizing efficacy and convenience with carfilzomib in rrMM 
Dr. Keith Stewart (USA)
18:10 – 18:30
18:30 – 19:30
Evening Symposium: Novel anti-BCMA therapy for rrMM
(Sponsored by GSK)
Dr. María-Victoria Mateos (Spain)
19:30 – 20:30
20:30 – 20:45
Closing Ceremony
Certificate of Appreciation Presentation 
Dr. Harold Lee